equipment:cnc_router_carvey
CNC Router - The Carvey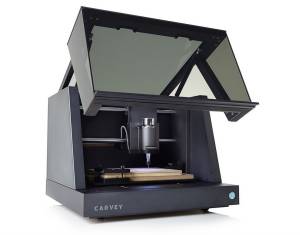 Make/Model
Cost To Use
Notes
You MUST BE TRAINED before using it alone. Ask for help from those who have been trained, and
Contact James Pittman to set up an appointment for your training.
Specs
FEATURES
smart corner clamp with auto z-zero

innovative side clamp system with three lengths of clamps (Qty 3 each) and two heights of clamp bases (Qty 3 each)

(clamps work on material up to 3/4" thick)
SPINDLE
300W DC spindle with RPM 3000 - 12,000

ER-11 precision collet for bits with a 1/8" shank. The collet can be swapped out to accommodate bits with 3/16" or 1/4" shanks.
Machine Footprint
Width: 21.7 inches (55 cm)

Height: 16.6 inches (42 cm)

Depth: 20.5 inches (52 cm)

Weight: 70 lbs (32 kg)
Work Area
Width (X-axis): 11.6 inches (29 cm)

Depth (Y-axis): 8 inches (20 cm)

Height (Z-axis): 2.75 inches (7 cm)
PRECISION
Accuracy: 0.001" to 0.003"

Spindle runout: 0.001"

Motor resolution: 0.001" or greater on all axes
ELECTRONICS
AC 100-240V +/-10% at 50/60 Hz

Includes a universal power socket

5.0A Max, 500W
SOFTWARE Free web-based Easel software, designed to work seamlessly with Carvey. There are also many other available software options that range in price. As long as your software exports G-code and you have a G-code sender, it will work with Carvey.
On loan from
History
02/12/16 - Arrived at Makerspace
02/12/16 - Ready to Use
Owner's Manual
QR Code
equipment/cnc_router_carvey.txt · Last modified: 2022/05/29 16:01 by 127.0.0.1
---