Renting Studios
We rent out "micro workshops" or studios to provide some members a dedicated area for projects and tools, storing materials, starting up a business, etc.
Most studios are 6′ wide by 8′ long. They are located in various areas in the shop. Some are in 'clean' areas where dust-making activities are not allowed, others are in shop areas where noise and temporary messes are OK. They come with 120V power and access to the Bodgery's WiFi.
The cost is $125/month, in addition to your base membership. Terms are month-to-month but with an initial 6-month commitment. The first and last month's rent is due on signing. There is typically a waiting list.
We also rent cart parking spots for $24/month. They are 2' by 4'. Maximum cart height is 5'. There is typically no waiting list for cart parking.
To discuss further, email our Studio Manager.
This map shows studio locations in light blue with a letter+number label: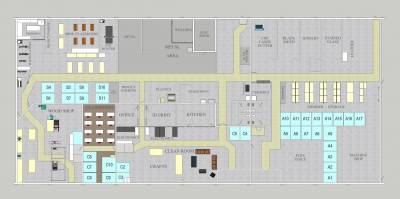 studios.txt · Last modified: 2022/10/17 13:38 by Mark Pickard
---