Ryobi 13" Planer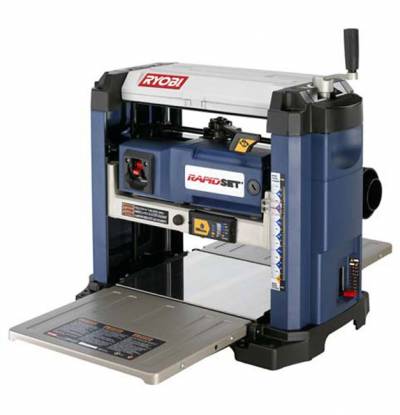 Model No: AP1300/AP1301
Owner: Karen Corbeill
Parallel Test Out: 0.0010 in.
Average snipe 0.0015 in.
Time to change knives 14 minutes Use Allen Head Tip on an Impact Wrench to remove the socket head screws!
Knives can be sharpened No
Noise Rating 101 dB (load)
Manufacturer Specifications:
Manufacturer Ryobi
Manufacturer's Web Site www.ryobitools.com
Manufacturer's Phone Number 800-525-2579
Extra set of knives included No
Price for Set of Knives $30
Reversible Knives Yes
Built-in Dust Collection Hood: included
Speed 9,900 rpm (no load)
Amps 15
Maximum Thickness 6 in.
Maximum Width 13 in.
equipment/ryobi-planer.txt · Last modified: 2022/05/29 16:01 by 127.0.0.1
---